Course Surveys In Qualtrics
---
Survey Dashboard Access
The course and instructor survey dashboard is administered in Qualtrics. To access the dashboard for your courses' surveys, you must have a Qualtrics account in the University of Kansas Qualtrics license, accessible at http://survey.ku.edu by using your Single Sign On credentials.
If you already have an account, logging into the site above will bring you to your Qualtrics home screen. If this is your first time logging in, when prompted, select "No, I don't have a preexisting account here" and an account will be automatically created for you.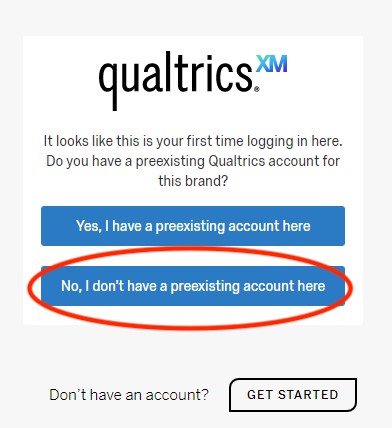 Available instructor dashboard data is limited to courses that list you as the instructor. Course surveys are distributed to all courses except thesis and dissertation hours.
Once logged in, you'll see the dashboard project "KU Course Surveys" listed in your account. Click the project name, and the dashboard will open.

The dashboard includes three pages. The first page contains course feedback, the second contains instructor feedback, and third contains information about the dashboard. By default, both feedback pages show all available feedback, but you can use the dashboard filters at the top of each page to narrow feedback to particular terms or courses.
 Course survey page
This page focuses on questions regarding the course in general. It includes filters for Course Code (i.e., ENGL 101) and Class Number, so you can see results for any particular class you taught.


Note: the dashboard defaults to showing all available terms. Use the dashboard filter "Term Selection" to select a particular term.

 Instructor survey page
Similar in design to the course feedback page, this page focuses on questions regarding the instructor. Hovering over any bar chart visualization will provide more information via the tooltip.
Exporting data
You can export entire dashboard pages in a variety of formats using the Export button in the top right of the dashboard.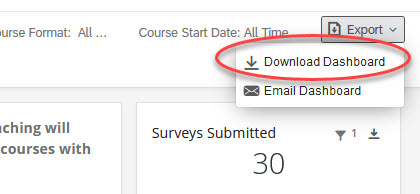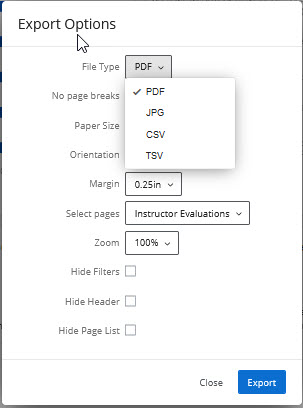 Alternatively, you can export individual dashboard widgets with the export button in the top right of each widget.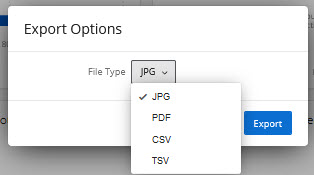 PDF and JPG exports work essentially like a screenshot, showing only what is currently visible on the screen, which is why all text comments do not necessarily appear in that format. To save and view all your survey data, the best practice is to export the dashboard in CSV format, which is viewable and printable in Excel. Exporting the entirety of either dashboard page will include the results from both the course and instructor surveys in one CSV file, using the filters currently applied on the given page.
Visit the Qualtrics website to view the full documentation for exporting dashboard data.
Response rates
Response rates are currently not available in this dashboard. The KU Course Survey team is exploring solutions to potentially provide this in future semesters.
Support
For any questions about your Qualtrics account or dashboard access, or any other administrative support needs, email aire-help@ku.edu.